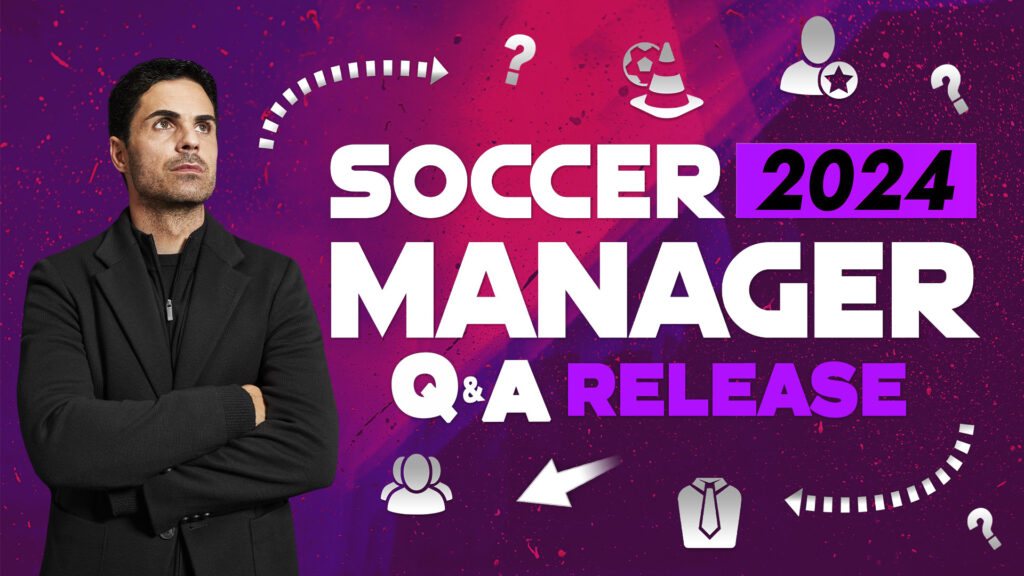 Welcome to the first ever Soccer Manager 2024 Q&A!
We've been collecting your questions from Facebook, Twitter, Instagram, and Discord over the last few weeks and have put together answers for some of the most burning questions that our community has had. We'd like to thank you all for sending in your questions. Let's get stuck into the answers!
---
Question 1: "Have any new countries and their leagues been added to the game?"
This one was easily the most asked question by far; so many of you wanted to know if specific leagues and countries have been added to Soccer Manager 2024. We can confirm that we now support adding leagues including Saudi Arabia to our community Data Packs!
As well as adding support for a whole new league, our proprietary Soccerwiki.org database has also been hugely updated for SM24. Over 23,000 players have had their stats updated, and 6,255 players have been added to the game!
---
Question 2: "Will the game be coming to Steam?"
We've carefully considered our approach from last year and as a result, we're focusing all of our efforts on the mobile experience of Soccer Manager.
Developing games across multiple platforms presents various challenges to our codebase. We want to make sure that any game that we deliver to the community is of the highest quality and meets the standards that they've come to expect from the Soccer Manager series. With that in mind, we have concentrated on building the ultimate mobile football management experience for Soccer Manager 2024.
---
Question 3: "What are the big changes to the game from SM23?"
Soccer Manager 2024 is set to be our biggest instalment in the series yet. We've spent the last year looking into the feedback from the community to decide what to work on, and Soccer Manager 2024 will bring brand-new features including:
International management

Customisable manager appearance

Expanded continental club competitions

Improved transfers and "live" contract negotiations

AI club behaviour improvements

Graphical engine overhaul
As everyone can agree, that's quite a list! We'll be releasing "Sneak Peek" videos revealing further details about many of these exciting new features as we get closer to launch. Make sure you're following our socials to be notified about those videos as they're released. You can find links to join all of our socials here!
---
Question 4: "Will there be national teams? If so, how will this work?"
This is one of the major new features in SM24 that we're super excited for. National teams and the ability to become an international manager are coming to the Soccer Manager series for the first time in SM24!
As you level up as a manager, you'll begin to receive offers from various countries to become the manager of their respective national team. At first, you'll receive offers from lower-ranked nations, but as your manager level improves, offers from bigger countries like Argentina, England, Germany, and others will become available. Any offers you accept will make you an international manager in addition to continuing your club management career, so you'll be managing both club and country simultaneously.
After accepting an offer to manage a national team, you'll be able to call up players to your international squad, qualifying for and competing in a wide variety of international team tournaments. You can take part in regional tournaments with nations in your continent, as well as against teams from across the globe in a quest to be crowned world champions!
---
Question 5: "What continental club competitions have been added?"
We've expanded Soccer Manager 2024's European continental club competitions, so there is now a third tier of competition within which your team can compete and win a European trophy. No more missing out on European football after finishing lower down the table throughout the European domestic leagues!
We have also added the ability for teams to drop from a higher competition to another, depending on how they finish in the group stages. Now, if you finish third in your group in the top tier, you'll still remain in European competition and will be able to compete in the second tier.
---
Question 6: "How have transfers been changed from SM23?"
Transfers have been changed in a big way from SM23! The most noticeable change to transfers in SM24 compared to SM23 is the new "live contracts" feature. Now, instead of simply offering a player a contract and awaiting a final response, you'll enter into back-and-forth negotiations with them. This system is similar to the live bids feature from SM23, but expands it out to include player negotiations as well as negotiations with other clubs.
---
Question 7: "Have there been any changes to the graphics?"
Yes! We're raising the standards of our graphics with SM24. We've put a lot of work into upgrading textures, models, animations, and the lighting engine in order to create the best-looking mobile football management experience yet.
Your teams will now look and move much more realistically than ever before on the pitch. We've also applied some of these new graphical changes to the facilities screen, allowing you to see your facilities in improved detail.
---
Question 8: "When will the new changes to the game be shown in more detail?"
As we get closer to launch (make sure you're following all our socials over the next few weeks to find out the release date!), we'll be publishing a series of Sneak Peek videos to showcase all of the stunning new features in detail. If you want to find out more about international management, manager customisation, and so much more, then keep your eyes peeled!
---
Question 9: "Will players of the beta version still get pre-registration rewards?"
Yes, everyone who signs up to play the open beta of Soccer Manager 2024 will still be eligible for our pre-registration reward package. 
For those of you who haven't pre-registered, there's still time to do so! You'll receive in-game gold, boosts, and a unique kit for the create-a-club mode when the game launches. You can sign up here!
---
Question 10: "Will you add calendar simulation to the game?"
This question came numerous times across every platform we took questions from, so it's clear you folks are keen on the feature. Calendar simulation will not be coming to SM24 at launch, but it's something that the team is looking at exploring going forwards.
---
Question 11: "Will you be adding more content to create-a-club, such as more badges and kits?"
Being able to design and grow your own club from scratch is a hugely popular mode in the Soccer Manager series, and we're pleased to say that we will be expanding the offerings available to you in Soccer Manager 2024. We know how much you folks love being able to build your ideal club. That's why we put a lot of focus into this mode last year and furthermore this year, in addition to manager customisation and numerous other new features.
---
Question 12: "Are there any changes to the players in create-a-club mode?"
The create-a-club players that you've all come to love are still going to be in the game!
Fitzgerald may not be quite as overpowered this year, though…
---
Question 13: "When will the game release?"
Whilst we're not ready to share the release date just yet, we will say that it won't be too long now. Keep your eyes on our social platforms for an announcement coming soon…
---
Thank you all so much once again for submitting your questions! We hope that these answers have explained some of the new features of SM24 and that you're now getting even more excited (as we are!) for the release of Soccer Manager 2024 on Android and iOS platforms!